Posted 09/25/2019 10:03:54
Category: Team Titan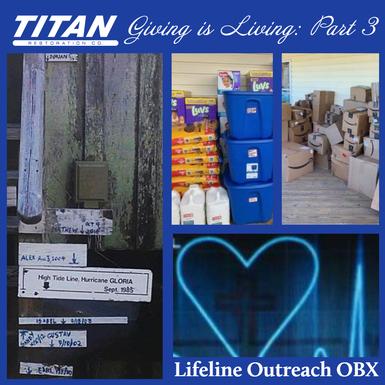 Written by: Michelle Hackett, Marketing Assistant
In the wake of destruction caused by Hurricane Dorian, choosing our third quarter charity was an easy decision to make. Titan Restoration Company purchased and donated much needed items to help the affected families in the Outer Banks through Lifeline Outreach OBX. Before telling you more about this amazing group, let's take a closer look at why organizations like this are so needed right now!
As you probably know, Hurricane Dorian struck the Bahamas and coastal North Carolina earlier this month. Dorian was "one of the most powerful Atlantic storms on record" according to the New York Times. [i] The storm hit the Bahamas as a Category 5 hurricane and devastated many communities before moving on to the coastal United States. The storm weakened before hitting the Carolinas, but even after the eye of the storm passed, storm surge flooding continued to batter the area. The weather channel reported, "Storm surge reached about 7 feet in Ocracoke, and roughly 6 feet on southern Hatteras Island". [ii] The storm surges came suddenly and rose quickly washing our roads, flooding homes, and stranding residents on the islands.
It is no easy feat to bounce back from these devastating storms, but there are many organizations out there helping in any way they can. Lifeline Outreach OBX of Salvo, North Carolina helps the communities of the Outer Banks ever day with their food pantry and outreach program.[iii] They provide assistance in the form of food, clothing, personal care items, and so much more for the disadvantaged in their communities as well as emergency support in disasters such as this. Titan chose Lifeline Outreach OBX because the outer banks is a favorite nearby beach destination of our owners and this local charity is serving the community through this disaster and beyond.
If you wish to help with the relief efforts, please reach out to one of the many charities doing great work in both the Outer Banks and the Bahamas.
To help Lifeline Outreach OBX's relief efforts, you can purchase items form their Amazon wish-list and have them delivered to the organization at 26651 Hwy 12 Unit B Salvo, NC 27972. The Amazon link is: https://www.amazon.com/hz/wishlist/ls/ASVL60HKKOR7?ref_=wl_share&fbclid=IwAR1a-pQ_zRdt-qg41fAs8lz4URPRr98Hrl7QV4q8RWmZG94mbC7XLlS4Vi8
Related Entries:
Giving is Living: Titan Gives Back (Part 1)